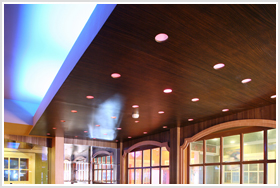 • Audio. Design, purchase, installation, zone control, room combining, sound
• masking. You choose equipment and programming.

• Video. High definition, plasma display, PC integration, video wall. You choose
• equipment and programming.

• Phone & Data. Design, wiring, patch panels, phone blocks, hub switch,
• testing, termination and certification.

• CCTV Security. IP programmable DVR, color video, high resolution, PTZ, AI
• and AGC cameras.

• Multimedia Presentation. Audio video PC data projection.

• Theater sound and assist support - Music and messaging on
• hold.

• Audio Video satellite or Ethernet download - Plenum Cables -
• Low voltage tear down and removals.